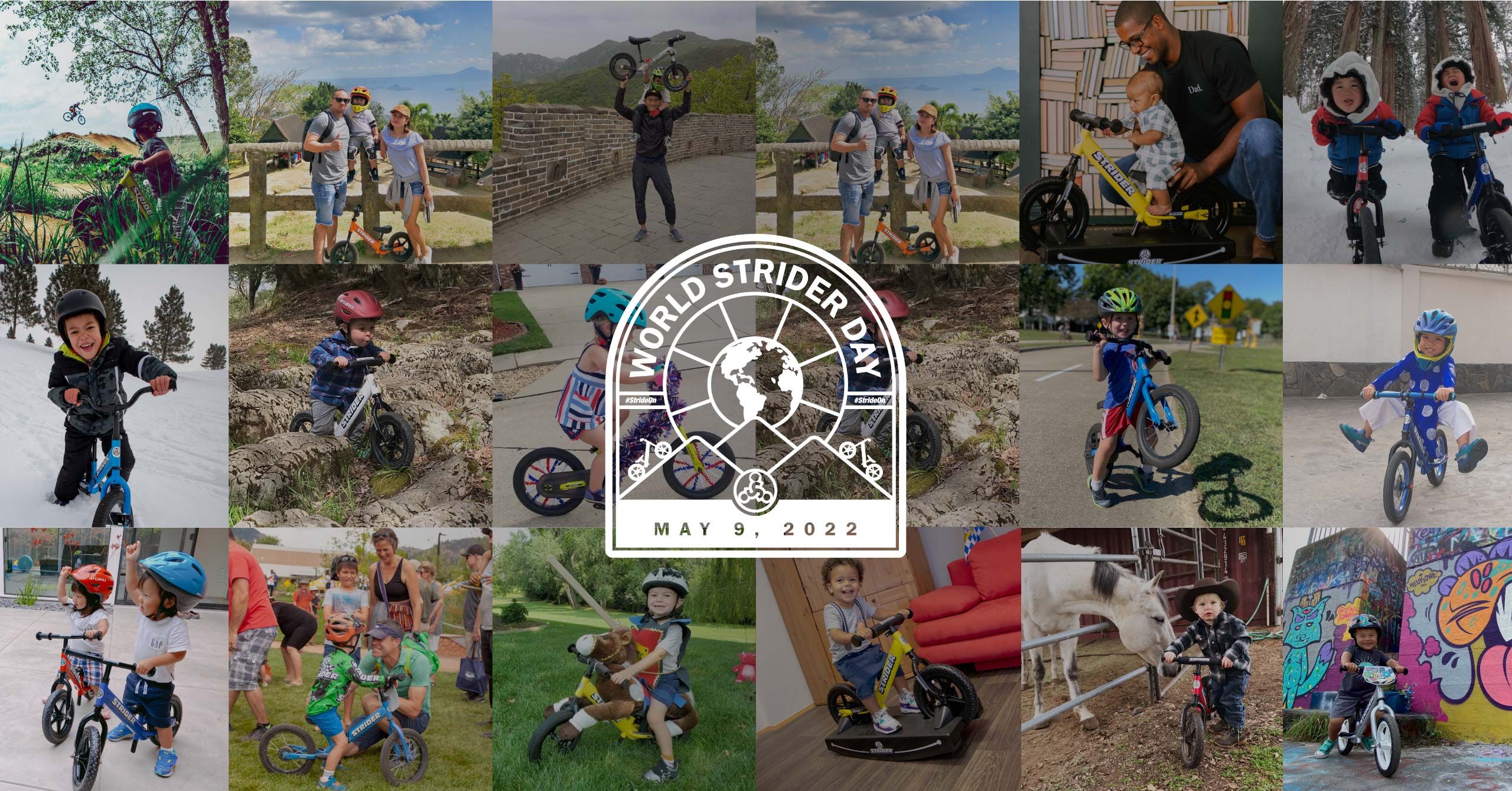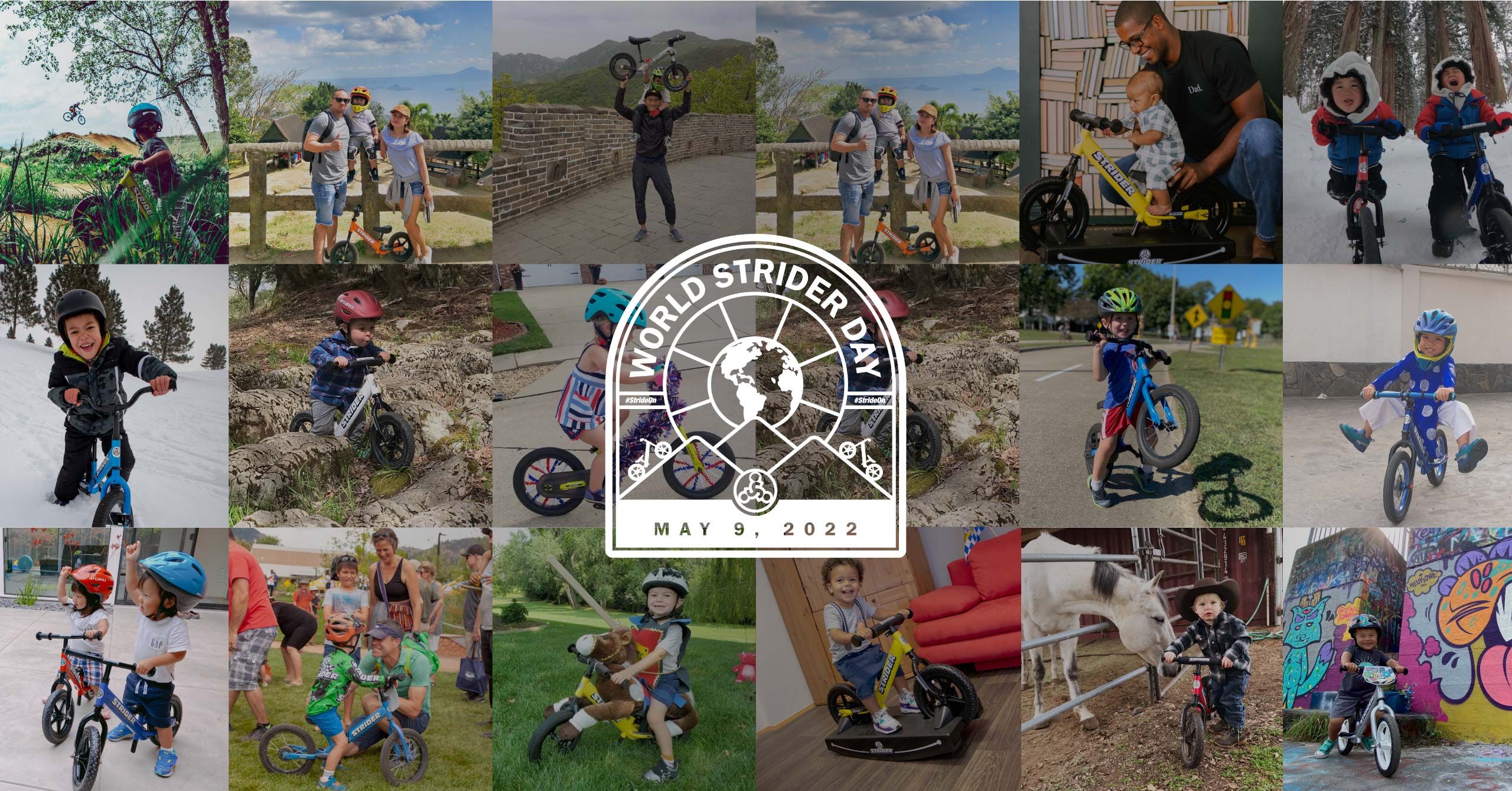 REGISTER BELOW FOR A CHANCE TO WIN BIG!
May 9th is World Strider Day, and we are having a party – virtually, of course – and you are invited. Established in 2017, World Strider Day recognizes the importance of inspiring healthy activities and celebrates the confidence and joy that riding a bike sparks in young children.
Strider riders and families stretch across the globe! And now more than ever, we all understand the connectedness of the whole, wide world. So, let's connect, on May 9th, and share our love and passion for life on two wheels!
To participate, families simply register below, go for a bike ride, and snap a photo or video of their child on a Strider Bike.
Don't have a Strider Bike yet? No worries – You can still celebrate with us! Just by registering for the event you're entered to WIN a Strider Bike of your choice!
WHEN

WHERE

Anywhere in the whole, wide world

HOW
And, the best part is, World Strider Day can be as simple or extravagant as you want to make it. Maybe it's a day-long event with the whole family including packed lunches and fireworks, or perhaps, you go out, snap a few photos, and you're back home before your morning coffee gets cold. Whatever works best for you and yours! To compete, you must post a photo or video to either Facebook, Instagram, or TikTok using the hashtag for each specific category. Choose to compete in one or all of these categories for your chance to WIN BIG…but, really, when it comes to getting out on a Strider Bike, aren't we all winners?!
World Strider Day
Virtual Event Categories
Register for World Strider Day below!
Most Impressive Glide – #StriderGlider2022

Strider 14x Sport with Pedal Kit

Coolest Animal Sighting – #StriderSighting2022

Most Creative Costume – #StriderCostume2022

Most Spirited Cheering Section – #StriderSpirit2022

$300 towards Bike Builder Dream Bike.

Best Decorated Bike – #StriderStyle2022

Best Obstacle Racecourse – #StriderRacecourse2022

Strider ST-R Carbon Fiber Bike

People's Choice – #WorldStriderDay2022

Bike of your choice! (excludes the ST-R)
Winners outside the United States will receive a $300 USD voucher for their countries' Strider Bikes website.
Everyone that registers for World Strider Day will automatically be entered to WIN a Strider Bike of their choice!
On May 5th, you will also receive a Virtual Packet that includes a printable number plate, and some sweet World Strider Day activities! 
It's time to start planning, training, dreaming, scheming, and counting down the days until we all come together (virtually) to laugh, play, and most importantly, RIDE. We can't wait!
Join the fun
World Strider Day Registration Form
Please read our full list of rules and regulations before submitting your entry.
World Strider Day Virtual Event Instructions and Virtual Event Packet will be sent to the email address provided on this form.
We will also randomly select and contact a winner via the emails provided on this form for a free Strider Bike. (ST-R excluded)