Warranty & Registration
We want to make sure your ownership of a Strider Balance Bike is the best experience it can be. All Genuine and Authorized Strider products include a 60-day Satisfaction Guarantee and a 2-year Limited Warranty against manufacturing defects (you know, things that happen at the factory. Not… say, backing over a Strider with your car because it was accidentally left in the driveway even though you told your child three times – three times – to put it away). 
The guarantee and warranty are void if the products were not purchased through the Strider Authorized Supply Chain and protected by the Security Program from departure from the Authorized Factory to delivery to the end consumer.  Further, the guarantee and the warranty are void if the products are used in a manner for which they were not designed or labeled; or if used by riders over the maximum size or weight limit listed on the product. 
If you have any questions, please feel free to contact us. Thank you!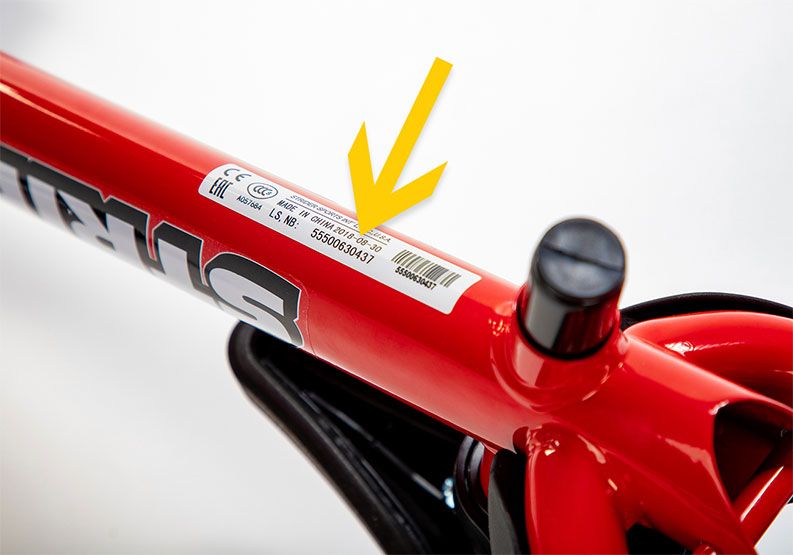 Important
Find your production date and serial number on the sticker underneath your frame.
Strider Bikes Two-Year Warranty Against Manufacturing Defects
We want you to be happy with your Strider products, we want your child to be successful at riding, and we are motivated to resolve any issues in a very timely manner. Contact us by phone or email.
Our warranty is limited to riders weighing less than 27 kg (60 lbs.) for all 12 Classic, Sport, Pro, and ST-R models; 36 kg (80 lbs.) for all 14x Sport models; 85 kg (187 lbs.) for 16 Sport models; and 110 kg (242 lbs.) for 20 Sport models.
We want to make it as easy as possible to resolve any warranty issues you may have with manufacturing defects. Just complete the form below.
Strider Bikes Registration
We want you to feel confident knowing you have purchased a Genuine Strider Bike. Please complete the form below to register your bike and join our mailing list to stay in-the-know for all Strider happenings. 
Want to confirm you have purchased a Genuine Strider Bike? Visit this page to see what to look for.