From first spills to riding thrills
Becoming Brave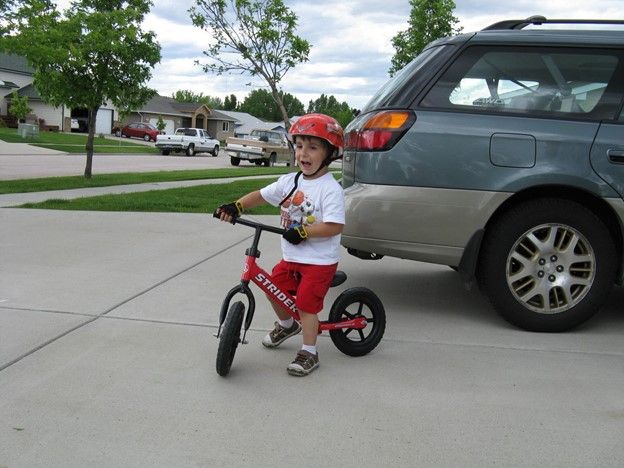 Like most cycling enthusiasts, I wanted to get my kids riding bicycles as soon as possible. My hopes and dreams were crushed when my 3-½-year-old son tipped from one training wheel to the other on his first pedal bike. It scared him so much that he refused further participation in this "biking activity."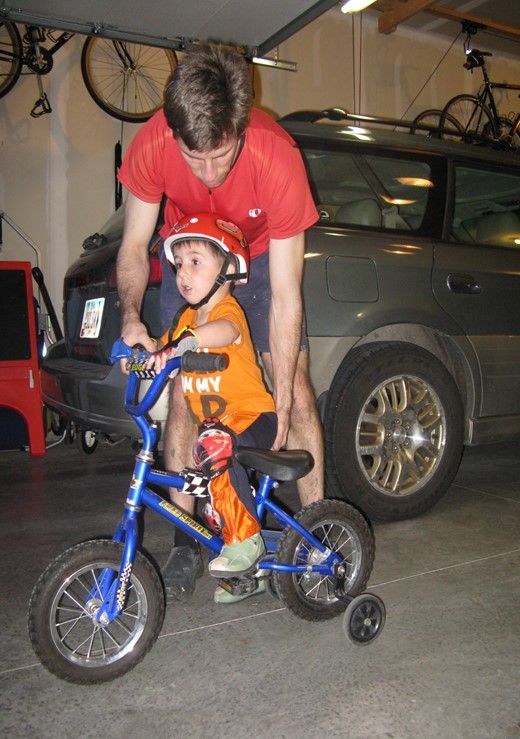 His enthusiasm and confidence shattered in one fell balance shifting swoop. I, too, was shattered. "We've stopped before we even started," I thought to myself. What do we need? More time? Stronger coercion? My brother, having heard our tale of cycling woes, happened upon what seemed to offer at least an alternative to our current "training" situation. He sent me a link to the Strider Bike. The concept immediately made sense to me, ditch the training wheels, and learn balance first, before pedaling. Would our now bicycle timid little boy swing a leg over it and give it a try? It took some coaxing, but with each family walk, he was going faster and faster. He was learning that trying new things wasn't so bad after all. He was becoming brave.
Grandpa didn't quite understand the concept of no pedals. "What's the point," he would grumble. After our son got "up to speed" and confident, making us all run after him, Grandpa was singing a different tune. "How else would you go on a walk with a 4-year-old and not have to wait for them or push them around," he would exclaim. Letting your opinion take a 180° turn around is also being brave! Our 22-month-old daughter had been walking for about a year but hadn't yet tried her pink Strider Bike. Suddenly, following her big brother's example, she jumped right on and strode all around our deck and house. She was enthusiastic about her new mobility, just like her big brother.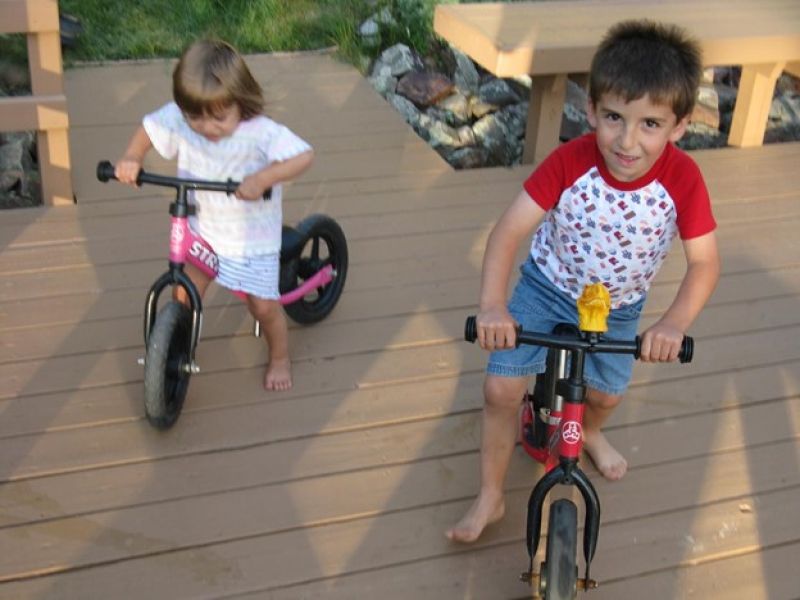 It wasn't long before both of them were playing together, brimming with confidence, and taking on new riding obstacles and challenges.
For my son, it was time to give a pedal bike another try. We could see and feel that he was hesitant. Likely flashing back to the original training wheel tip, but this time there were no training wheels. He was confident in his balance skills but afraid of this new, larger pedal bicycle.
He took it step by step and got the bike rolling and tried pedaling. We could tell he was a bit uneasy about the whole thing, but month after month, he kept being brave and coming back, finally getting the hang of it and pedaling off. We were ecstatic! Little sister was always inspired by big brother's bravery and figured if he can do it, so could she.
Pedal bikes led to electric motorcycles…all things two-wheeled! This seemed like a natural progression, but we really started to notice their confidence and bravery spilling over into all of their activities. Soccer, gymnastics, skiing, snowboarding, adventures in the forest, it was all a brave new world of activities.They are both teenagers now and continue becoming brave. Our son will soon be teaching other kids, and our daughter's favorite activity is aerial silks!
They are strong, happy, outgoing kids, and we couldn't be more proud of them. And it all started with those first brave strides.