Racing
Races for Toddlers! What's the Point?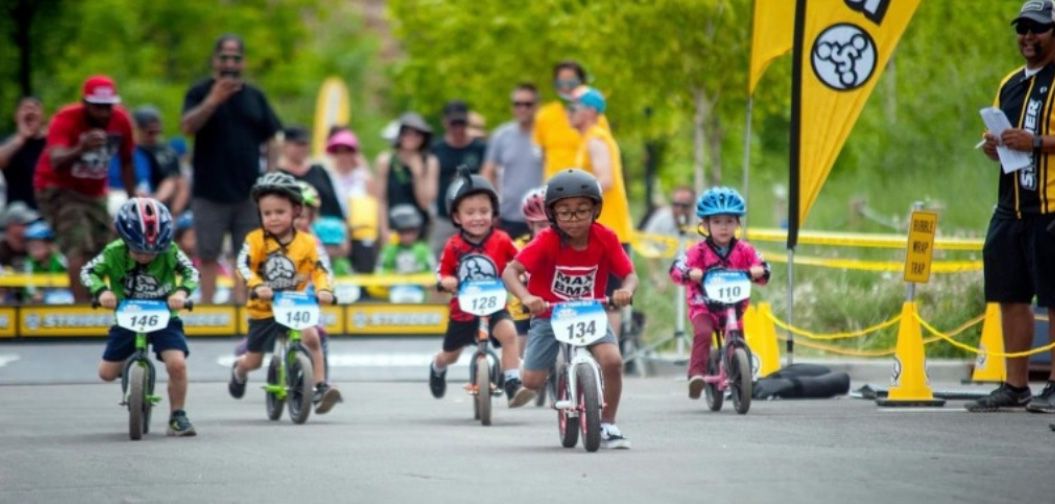 "BMX Max" and his Toddler Racing Journey
Max just turned five-years-old and is stoked to be riding a pedal bike, but he's had a lot of awesome memories on his Strider Balance Bike, so it's a little hard to let it go. It's a pretty special bike. It has taken him to a lot of exciting places. Max and his family have been attending Strider Cup and Strider World Cup events ever since he was two-years-old, and he has become quite the little rider, complete with a YouTube channel and Instagram account! He's raced in Lincoln, Ft. Worth, L.A., Boulder, and Minneapolis. That's impressive for a five-year-old.
When Max was just barely two-years-old, Clif, Max's dad, heard about a Strider Cup event through YouTube and thought it would be fun to try. Laney, Max's older sister, then four years old, started to take an interested in biking as well. So, they got a couple of Strider Bikes and headed to Lincoln, Nebraska for their first race.
"Watching a huge group of little kids race on Strider Bikes is quite the scene!"
Watching a huge group of little kids race on Strider Bikes is quite the scene! "Max was only two-years-old, had a big head, little body, and was kind of wobbly – just like all the other two-year-olds," Clif energetically recounts. When the race started, suddenly, Max just took off! Even though he slowed down to wait for all his friends to catch up, he still ended up getting third place in his very first race. That lit a fire in Max. The next year, when Max turned 3, Clif made it a goal to go to as many Strider events as possible.
Over the winter, they went to the BMX track…a lot. Both Max and Laney started riding the Strider 14X, and they were ready for the next Strider race season. Their next race was in Fort Worth, Texas, and both kids did well. Max especially loved it. "I was like, okay, so that's something. You know, a lot of parents push their kids to do a sport and the kid's not really interested…but Max loves his bike," Clif explains. He decided to customize a bike for Max, helping him ride a bit faster, and, of course, making it look extra cool. Max was fast, and now, with his new bike, a slick jersey, and an enthusiastic father, he was starting to get noticed.
Max kept going to races. He went to Boulder, L.A., and Minneapolis. He's fast, and he wasn't a stranger to the podium. He became known as "Max BMX" and started getting traction on Instagram and YouTube. Max and his dad were hard to miss at Strider events. It wasn't just their matching "Max BMX" shirts that got attention, but their contagious enthusiasm while racing and mingling after.
Now, Max is five years old. He is riding a pedal bike and is ready to move into the BMX race circuit. His last Strider race was in Minneapolis. Even after all the trophies Max has taken home, it's not the winning that he or his family will remember most, it's the people they have met along the way. At every race they have attended, they've seen families they met from another race, and over time, they became friends. "It's just cool to be able to meet people that you wouldn't otherwise get to know," Clif said. At the Strider Cup World Championship, they met families from Asia, and now follow each other on social media and are still friends.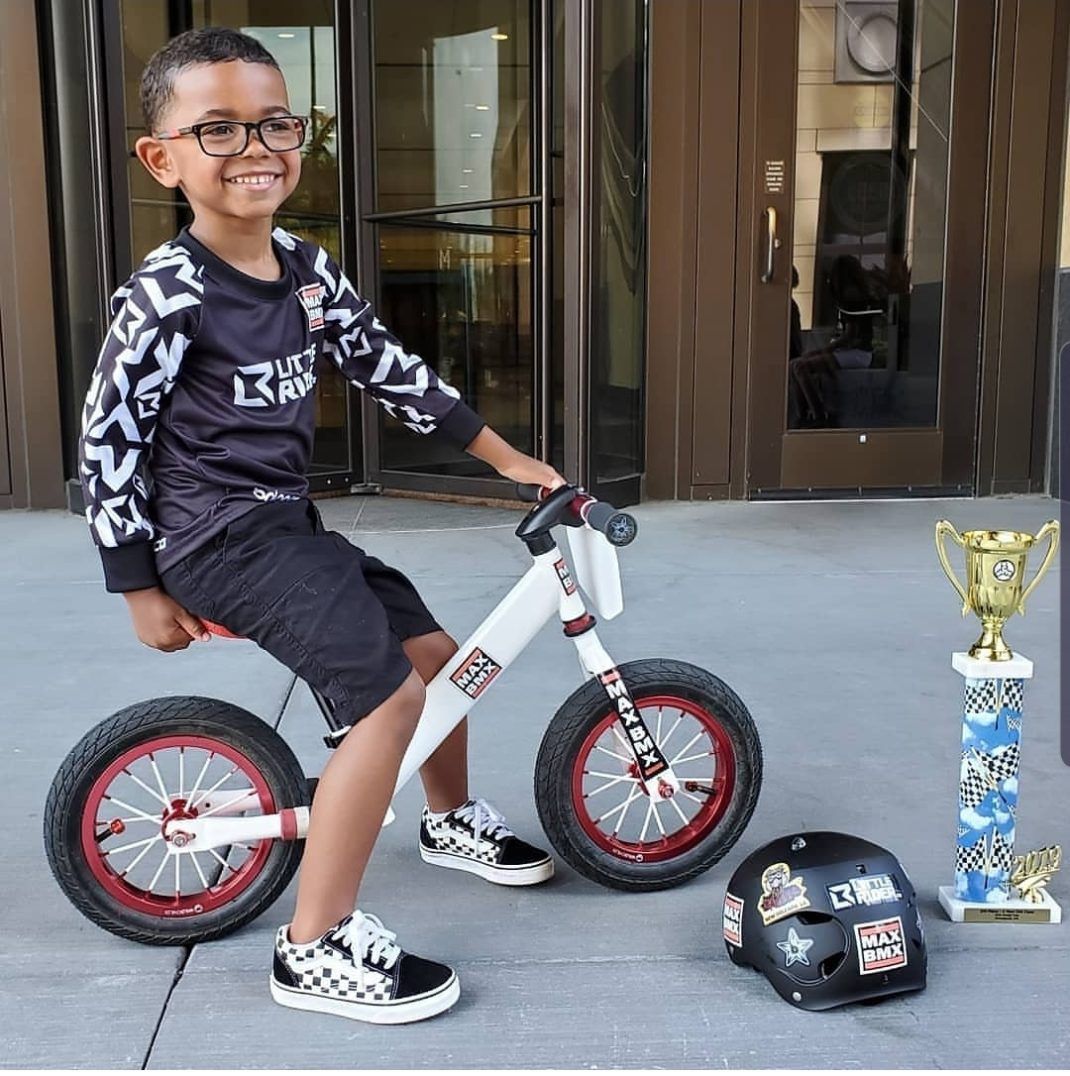 Even after all the trophies Max has taken home, it's not the winning that he or his family will remember most, it's the people they have met along the way.
But, racing isn't the only reason Max and his family love bikes. Riding gets them outside. "You know, in an age where kids don't go play outside the way I used to when I was a kid, it gets us outside. If we go to a baseball game, we take our bikes. If we go to the mall, we take our bikes. No matter where we go, we take our bikes," Cliff goes on, "You know, every parent should get their kid a Strider Bike. Period."
Clif credits Strider Bikes for getting his kids on bikes early, so the family could enjoy riding together sooner. They were able to go three or four miles through trails on bikes when Max was just two-years-old and his sister was five-years-old. "They were just so tiny, and nobody would have ever thought they would be able to do that. But that was years ago. We've been taking family trips together on bikes because the kids have always been able to stride and balance. So every parent has to have a Strider," Clif insists.
Even though she was a little small for her age, Laney was the only kid who rode a bike to kindergarten without training wheels. Now, Max is even riding a motorcycle. Clif can't believe the things that they can do as a family and insists they wouldn't be able to do these things with such young children if it wasn't for Strider.
"I think, if you're able to, every parent should go," Clif can't hide his enthusiasm. He loves the vibe and consistency of the events. "You know what you're going to get. It's going to be fun." It's kind of like a family reunion. You see the same people over the years and get to watch their kids grow up. In Clif's opinion, it's the perfect family environment. "Whether your kid is a competitive racer or just a newbie, you are going to get something out of it. It's just awesome!" Clif admits a feeling of melancholy  knowing that Max is past it now. Growing up and moving on from Strider events is a little bittersweet.
In a world where kids would rather play with their tablets or phones and watch videos online, Clif is thrilled that his kids want to keep riding. They are just a regular family. They live in the city. Max likes hot dogs and Laney like Chinese food. When you put a regular kid on a Strider and let them explore, extraordinary things happen. All the time.
The Strider events aren't only about the racing. They are about reminding each child and each family of the power of the friends, togetherness, freedom, and confidence that comes with life on two wheels.
If you are considering one of these events, Clif has a bit of advice for you, "If you look at the locations, they're really cool cities. So, if it's in a city within driving distance or even if you want to take a plane, there is so much to do, and it could become a family vacation." Clif and his family never just get there, do the race, and then leave. They hang out, see the sites, explore new places, and meet great people. "And once you start racing, if you start when they're two, you can see kids grow up with your kids."
Who knew you could get all of that, just by getting a Strider Bike?! You can see lots of great Strider Cup footage and follow Max and his continued riding journey at on Instagram and YouTube Channel .