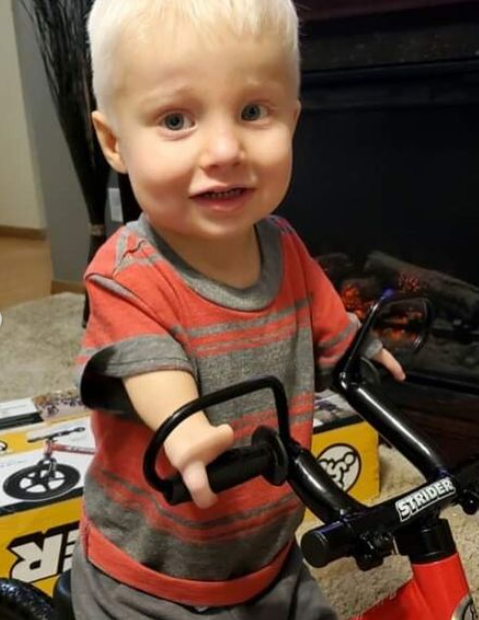 Tabor's Story

"I think it's great for other kids to see that Tabor looks different, but hey, he can do the same things that they can do!"  Tara – Tabor's Mom
Unstoppable. Strong. Determined.
Those are just a few words that describe 3-year-old Tabor Brooks.
Tabor was born with an upper limb difference, because of this he has been behind in gross motor skills since day one. His parents, Tara and Tyler, questioned how Tabor would learn to complete basic tasks and become as independent as possible. However, every day he surprises them with figuring out his own way of doing things. No matter how difficult something is, Tabor never stops working until he gets it!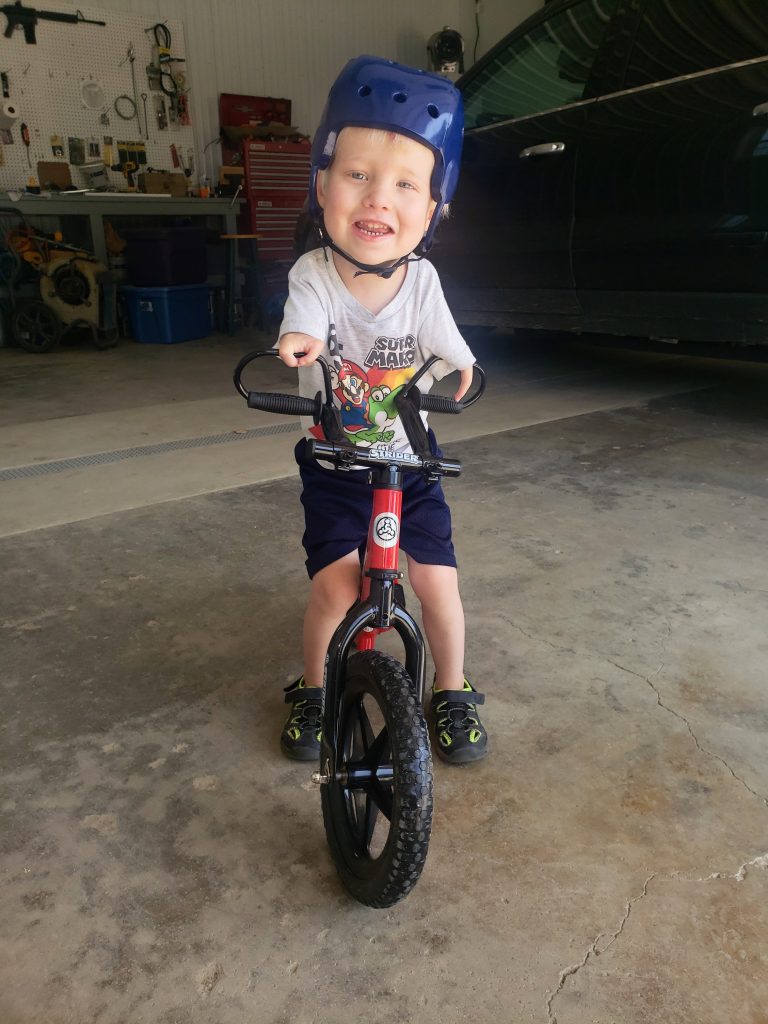 Tabor has always done his best to keep up with his older brother, Tayden. It wasn't long before Tayden started zooming around on a Strider Bike and Tabor wanted in on the action. A close friend of the Brooks family reached out to Strider about creating an adaptive bike for Tabor, something that would match his needs perfectly.
After a few emails and a couple of measurements, a brand-new Adaptive Strider Bike arrived on the Brooks' doorstep. "This is the first summer he has had his Strider, so we are still working on balance and learning how to turn," explained Tara, Tabor's mom. "He's super excited! He wants to do everything his older brother does, so for him to have a bike that's just like Tayden's is really special."
Once Tabor finds his balance, he loves to cruise around the backyard with his big bro. For Tabor's parents, this is so much more than a bike. It's a tool that has helped their son gain confidence. "It's really bittersweet for me to watch Tabor be independent and not have to stand on the sidelines," said Tara. "I think it's great for other kids to see that Tabor looks different, but hey, he can do the same things that they can do!"
The Brooks family is excited to watch the Adaptive Strider Program grow because they know there is a huge need for it. "There isn't a lot of resources for limb differences, so we kind of have to figure it out as we go. For a company to recognize the need and actually do something about it is such a blessing," explained Tara. "Thank you, Strider Bikes, for seeing the children with differences and being inclusive because it's not one size fits all."
We're so stoked to watch Tabor tear it up on two wheels and find his stride! Please Contact Us if your child is in need of an Adaptive Strider Bike!